PURCHASE two Adult tickets (or one Family ticket) to the trail in 2023, to go in the draw to win the following prize;
A special SEGT Garden Kit from Up On The Rooftop™, consisting of a set of 3 Waterpot Ollas, 1 Waterpot Spike pack,  1 x Grow Herbs Pack, a multi-pack of Root Pouch grow bags, Angus Stewart's "Grow Your Own Food – How to be an Urban Farmer" book
Value is over $300!
The winner will be announced after the 2023 Trail weekend.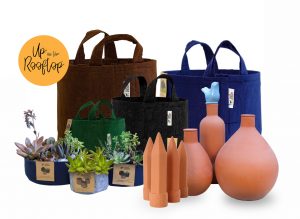 The Garden pack will consist of a set of 3 Waterpot Ollas, 1 Waterpot Spike pack, a Succulent pack, 1 x Grow Herbs Pack, a multi pack of Root Pouch grow bags Value is over $300.
Want to save water and grow healthier plants? Simple, effective, affordable & easy to use the Waterpot Ollas and Root Pouch ™ Grow bags are a formidable gardening solution.
The Waterpot Olla is perfectly suited for outdoor garden beds and larger potted plants, both indoors and outdoors. Your plants will thrive as they draw the water they need to grow directly from the Waterpot which means no more second-guessing or overwatering. Made of low-fired and unglazed clay, the surface is porous and allows water to slowly move through the wall of the olla into the surrounding soil where it is taken up by your plants. Pot them up in the range of Root Pouch™ grow bags and you have the perfect growing partnership. Made of 100% recycle PET water bottles the unique patented fabric of the Root Pouch bags prevents circling of roots which means more roots therefore more nutrients, water and air getting to the roots resulting in healthier, more productive plants, fruit trees, herbs and anything else you wish to grow (they make seriously functional carry bags as well!). Washable, reusable, BPA free, certified food-safe, strong, portable and durable (and many other benefits) – you couldn't ask for a better pot!
Team the Waterpot Ollas with Root Pouch Grow bags and you have a method of gardening that is a solution to the modern day dilemmas of drought and water-restrictions and create your manageable garden.